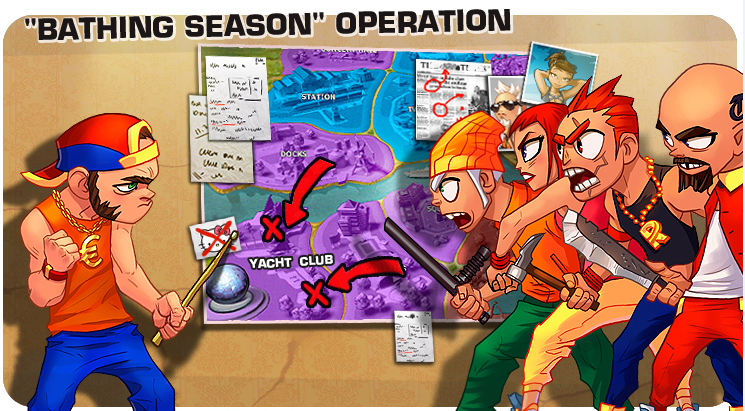 Hello, friends!
In less than 12 hours an epic battle over Yachtclub district shall begin!
The warm days are coming and everyone desires to wash off the sweat in the clear waters of Mojo River, but alas! the Clubbers have occupied Yachtclub district and won't let anyone else wander around there without getting punished.
The time has come for Urbans, Rockers and Pop to unite and show their resolve to fight shoulder to shoulder for the nice place under the sun!
So, tomorrow, on Tuesday, May 20th at 7:30am GMT we encourage all the band leaders to place their flags at Yachtclub district!
At the moment of next district redistribution the scores of top-5 bands will be calculated: Club bands will be summed together and compared to the sum of all the non-Club bands in top-5 on Yachtclub district.
Shall the Clubbers manage to defend their district, all the Club-style bands in top-5 will get 160 rubies and 2000 stars each.
Shall the opposite forces succeed in their assault, the non-Club bands in top-5 will receive 320 rubies and 4000 stars each.
The prizes will be distributed between band members according to the band leader's decision.
If the musicians' activity shall overcome the Administration's expectations, the prize fund may be increased!
It's time to act - so we can idle on the luxurious yachts later!